North America's Fastest Growing Aluminum Service Center
Champagne Metals is a premier aluminum sheet & aluminum coil service center with customers in all regions of the U.S. & Canada. Our multiple U.S.-based facilities are a one-stop solution for all your aluminum processing needs. 
"We build the highest-quality trailers in our market; we in turn have very high-quality specifications. Champagne Metals has superior equipment that helps give us an edge on our competition. We trust the Knowledge and Full Capabilities that Champagne Metals provides every day to help make us successful!"

Leading Grain & Livestock Trailer Manufacturer

Our Aluminum Processing Equipment Capabilities
All Champagne Metals facilities use state-of-the-art equipment to ensure precision and quality. Our machinery includes Herr-Voss, Bradbury Coil Processing Equipment, Slear and Butech Bliss.
With a robust equipment setup, we're able to produce tubes and other custom shapes, provide primed or bare structural tubing, shear, crimp, and saw, including miter-cut capabilities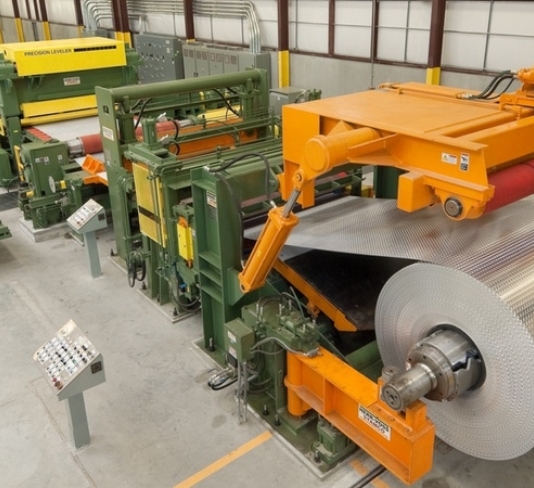 Why Choose Champagne Metals as Your Aluminum Partner
Reliability. We offer dependable deliveries and can work with just-in-time philosophies
Service and expertise. Our teams provide unparalleled customer support and industry know-how
Custom solutions. Champagne Metals can help you create unique answers for your most demanding applications
Value. We partner with you for value-added services, like scrap handling and customized packaging
Quality. Our facilities have achieved ISO 9001:2015 certifications, so our products meet strict quality standards
Innovation. We continuously invest in top-of-the-line equipment to provide additional capabilities

Request a Quote Today!
Find out more about how we can support your goals by filling out the form or calling us at 888-266-1131.
Multiple Locations Across North America Servicing the Entire Continent
Featured Customer Reviews & Stories
"I have dealt with Mike and his team for over 30 years; they go above and beyond every day to make sure we have the products we need right when we need them. As a trusted business partner, Champagne Metals is the most Customer Focused company I know!"
Leading Horse Trailer Manufacturer
"We build the highest-quality trailers in our market; we in turn have very high-quality specifications. Champagne Metals has superior equipment that helps give us an edge on our competition. We trust the Knowledge and Full Capabilities that Champagne Metals provides every day to help make us successful!"
Leading Grain & Livestock Trailer Manufacturer